Spring has sprung! So for some of us that means putting away our abused parkas and boots, and stumbling out into the sunlight in normal people clothes. Here are some ways to approach what we'll be rocking this spring, whether your budget is high or low.
Colored Denim: Jeans are a staple that are season agnostic. But if you're tired of your dark wash, try on the trend of brightly colored denim. It might just add some spring to your step!
High:
Givenchy Two-Tone Green Jeans available at Bergdorf Goodman for $990.
Medium:
Paige Denim 'Skyline' Skinny Stretch Ankle Jeans (Crane Wash) available at Nordstrom for $179.
Low:
River Island Jade Colored Jean available on asos.com for $53.72.
Mint Green: The freshest of spring trends. Try rocking this color any way you like! The pastel shade works as a dress, blazer, or even as a swimsuit.
High:
RED Valentino Short-Sleeve Ruffle-Front Dress available at Neiman Marcus for $650.
Medium: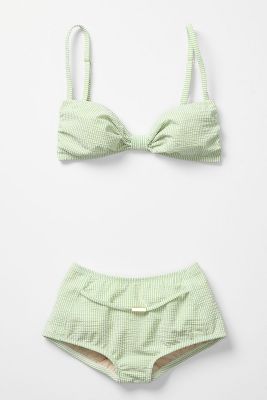 Sherbet Seersucker Bikini available at Anthropologie for $108.
Low:
Mint Animal Jacquard Shorts, available at topshop for $60.
Bonus!
Dior Vernis Nail Lacquer – Scented available at Sephora for $23.
Peplum: Definitely the "it" trend of the season. Try this new take on the female silhouette before it's gone!
Sandro Resonance crepe peplum dress available at net-a-porter for $300.
Medium:
MARC BY MARC JACOBS Skirt – Hannah Peplum available at Bloomingdales for $168.
Low:
Contrast Trim Peplum Dress available at Forever 21 for $17.80.
Happy shopping!
-L